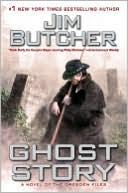 Ghost Story
By Jim Butcher
I finished reading Changes, the book that's before Ghost Story, and had to ask myself: How in the world will the next book be even better than this one?!?!
That is, I asked myself that after I finished screaming and running about the house like a crazed woman... The ending of Changes had to have been one of the most suspenseful endings ever... and it left you hanging.
Anyways, how in the world would Changes improve on that?!?! HOW IN THE WORLD WOULD JIM BUTCHER CONTINUE THE STORY AFTER WHAT HAPPENED?!?!?!
Well he did.
And it was even better.
I won't say exactly what happens in this story (mainly because it'll ruin the ending of Changes) but trust me when I say you won't be disappointed. The Dresden Files has taken the top position in my list of must-reads, so I highly recommend you get off the computer and pick up the first book in the series: Storm Front.